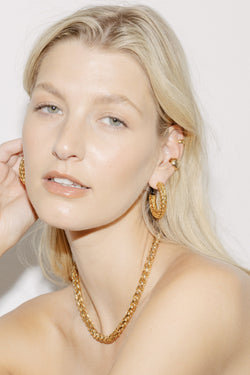 RENATA NECKLACE
RENATA NECKLACE
Description: 16" rope chain necklace. 
The Renata necklace is one of our favorite pieces- edgy with a nod to a classic chain link. Paired with a white tee or cashmere sweater, this necklace adds polish and glow to any look.
Materials:
14k yellow gold plated brass
Colors: 
Yellow Gold

Jewelry Care: 
We care about your jewelry as much as you do!
To keep it glowing, we suggest you remove your jewelry while showering, swimming and exercising when possible.
Please avoid contact with hair products, lotions or perfumes as they often have chemicals and oils that can increase the wear on your pieces.
Please avoid harsh chemicals, bleach, oil, or jewelry cleaners as this can affect finishing.